The Agency of Digital Services has a direct role as well as a joint role with the rest of state government in the Governor's Program to Improve Vermont Outcomes Together (PIVOT) program.  This program was created through Executive Order 04-17, issued on January 5, 2017.  The following presentation helps explain the program and how it relates to modernizing and making state government more efficient.
Business Processes and Information Technology are integral components that impact operational performance.  By focusing on business process, measuring outcomes and providing solutions to reach optimization we can marry best practice workflow with newer technologies for optimal efficiencies and performance rather than applying technology to outdated processes in hopes of driving the business efficiencies forward.  Gaining operational efficiencies through process improvement initiatives while simultaneously targeting technology that supports best practice will optimize the way we work.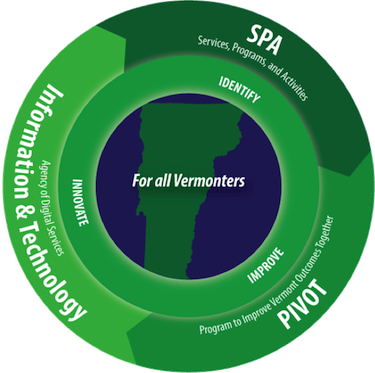 The State of Vermont is beginning to engage in state wide LEAN process improvements through the PIVOT Initiative (Program to Improve Vermont Outcomes Together).  The Agency of Digital Services fully supports this initiative by identifying technology options and advancements that could enhance best practice processes.  We work with our partner agencies through the exploration phase of our project management life cycle to identify business needs and operational challenges. We then mobilize the appropriate people and physical assets to solve problems that will help us achieve better outcomes for our partners and for all Vermonters.